Some lovely clients have kindly shared their experiences of working with me.. 
Rae & Col 
"Colin and I really enjoyed the Mindful Births KGHypnobirthing course with Lisa. It was thorough, informative and really very interesting. By the end of the course we felt prepared for the final trimester and labour/birth experience.
When I was diagnosed with gestational diabetes in the final weeks of our pregnancy all the Hypnobirthing training came into play; I was able to use techniques to keep me calm and in control, I advocated for the birth we wanted with informed confidence, and Lisa's ongoing support and advice was invaluable.
Subsequently we had a wonderful birth and I found the whole experience empowering and healing. I put all we had learned into practice and my midwife told me I "laboured like a trooper".
Thank you so much Lisa, your teaching enabled us to have a perfect birth in spite of implications due to the pandemic and the curveball of my GD diagnosis. What you gave us was the confidence to advocate for our needs, the information to make fully informed decisions about our care, and the courage to follow our instincts – thank you!"
Rae & Colin
Read their birth story here
Victoria and Rob
 "I decided to take part in a hypnobirthing course when I was expecting my first baby. Understandably I was very nervous about the pending birth and felt that the more information I had when the time came would be really helpful. I decided to take part in the course offered by Lisa after she was recommended by a family friend.
I found the information provided on the course incredibly useful and when the time came It allowed me to understand exactly what was happening to my body and why.
In the end, the birth was the opposite of everything I had planned. I wasn't allowed to have a water birth, had to be induced and ended up with an emergency caesarean but we got there in the end after 50 hours!
Despite this, I know that every decision I made was the right one for me and the baby at the time and I know that I tried everything in my power to have a natural birth. Without having done the course, I would have felt completely powerless.
My husband coached me every step of the way and was a great support and this was all due to what he learned on the course. Without it he probably would have been useless!
Thanks to Lisa!!"
Victoria and Rob
Jess and Dan
"Thanks so much @Mindfulbirths for supporting us on our journey. In the first week you asked us to describe our feelings about birth – 'Worried', 'conflicted', 'confused' and 'painful' – you had your work cut out with two nervous first time parents! What ensued was a wonderful month of interactive, insightful and inspiring sessions which after a month flipped our feelings to 'confident', 'calm', 'excited' and 'informed'. Your guidance has been invaluable. Thanks so much again, we're looking forward to putting everything we've learnt into practice."
"As an anxious first time father I was worried that I'd be a spare part during the birth and was completely clueless about what would be needed or how I could help. I watched a few minutes of One Born Every Minute where a father was totally crap and ended up fainting. It's been spinning in my head ever since. After a month with Lisa I've now got a much better understanding of the science and psychology of birth and how I can play an active and positive role in making it the best experience possible. Thank you @Mindfulbirths for empowering both of us. "
Jess & Dan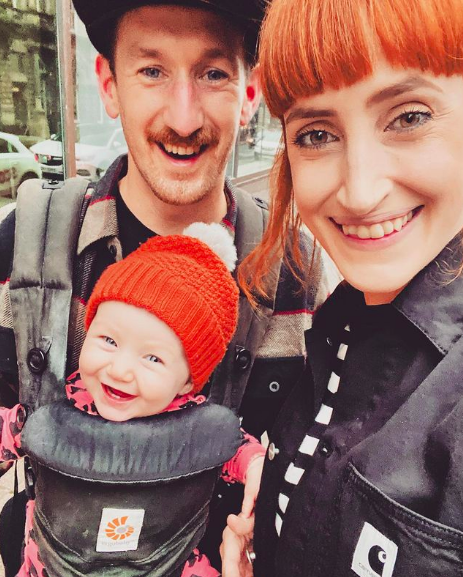 Ruth + baby Thomas
"I loved Lisa's hypnobirthing course and would highly recommend to others. The sessions were fun, informal, full of information and practical techniques for birth. I felt empowered to have the birth I wanted and used the techniques successfully in my own labour. Lisa herself is calm and presents the information with such warmth. I felt able to ask questions and particularly liked that she was non judgemental towards my decision to be induced in hospital. I still found all the course relevant and I managed to have a vaginal birth with TENS, gas and air and hypnobirthing techniques."  Thanks Lisa